Nobel Prize Diploma Awarded to Ivo Andrić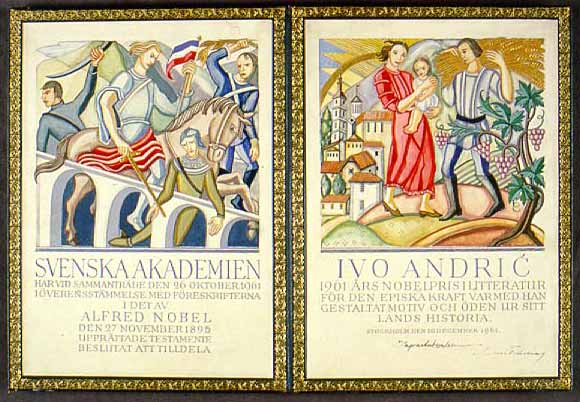 Nobel Prize Medal Awarded to Ivo Andrić
On Stories and Story-Telling
In the performance of their exalted task, the Nobel Committee of the Swedish Academy has decided, this time, to distinguish a writer of, as it is often called, a small country with the Nobel prize, which measured in international dimensions, is a very high honor. May I be allowed, accepting this award, to say a few words about that country, and to add a few more general considerations in connection with the narrative works that you have been pleased to reward.
My country is really "a small country among worlds" as one of our writers put it, a country that in rapid stages, at the price of great sacrifices and exceptional endeavours, has attempted to make up in all fields, including that of culture, for what an unusually stormy and difficult past has deprived it of. By your recognition, you have thrown a beam of light on the literature through a range of new names and original works has begun to make its way in the world, in a justified aspiration to make a fitting contribution to world literature. Your recognition of a writer from this country undoubtedly does much to encourage this. It constrains us to gratitude, then, and I am happy that I can, at this place and time, not only in my own name, but in the name of the literature I belong to, express this gratitude simply but sincerely.
The second part of my task is somewhat more complex and difficult, that is to say a few words in connection with the narrative works of the writer to whom you have done honour with this prize.
But where a writer and his work is concerned, does is it not seem just a little unjust that he who has created some work of art, should be expected, apart from having given his creation, a part of himself that is, to say something else about himself and this work? There are some of us who are more inclined to look upon the creators of works of art as if they were dumb, absent contemporaries, or the glorious departed, who think that the speech of the work of art is purer and clearer if it is not mingled with the living voice of its creator. This kind of thinking is neither new nor unusual. Montesquieu stated that "writers are not good judges of their own works". I once read with great admiration and understanding Goethe's rule: "It is the artist's to create, not to speak." As many years later I was to come with excitement upon the same thought, brilliantly expressed, in the works of a man we still mourn, Albert Camus.
For this reason I would like to place the emphasis of this short address where I think it properly should be, on a consideration of the story and story-telling in general. In a thousand different languages, in the most varied conditions of life, from age to age, from the ancient stories of the patriarchs in their huts round the fire, to the works of modern narrators that are coming out at this moment from the publishing companies in the great world centers, a story has been spun of the fate of mankind, told without end by people to people. The manner and forms of the narration change with time and conditions, but the need for stories and story-telling, the story runs on, there is no end to story-telling. Sometimes it seems to us as if mankind from the first flash of consciousness, through the ages has constantly told itself, in a million variants, in time with the breath of its lungs and the rhythm of its pulse, the same single story. And this story seems to want, like the story-telling of the legendary Sheherezade, to beguile the executioner, to put off the inevitability of the tragic fate that awaits us, and prolong the illusion of life and continued existence. Or is, perhaps, the teller with his work there to help man to find himself, to cope? Perhaps it is his calling to talk in the name of all those who could not, or, cut down before their time by the executioner of life, did not manage to express themselves. Or does the narrator tell his tale to himself, as a child sings in the dark to beguile his fear? Or is it the aim of this story-telling to light up for us, at least a little, the dark ways onto which life often casts us, and tell us something more of this life, that we live but do not always see or understand, than we in our weakness can know or understand.
(Excerpt from Ivo Andrić's speech when receiving the Nobel Prize, 1961)